Program Description
Headquartered in Philadelphia, PA, all artists and instructors involved in Girls on the Move are dedicated to carrying out a 3-part program that has and will continue to transform the lives of adolescent girls. The current iteration of the prorgram serves predominately African American adolescent girls ages 13 - 17 from inner city Philadelphia communties.
Over the course of one year, the girls are supported in a multi-cultural, female and personal identity empowerment process through the creative and performing arts. They engage in three progressive artistic rites of passage in order to develop the motivation and skills to become agents of change in their own lives and in their communities.
Lasting 12 months and held after school and on weekends, professional artists act as instructors and mentors to the program's participants.
What This Program Achieves
Structured upon current multi-cultural competency standards and best practices in research, our artistic mentorship and relationship-based curriculum...
* Engages the whole brain and body
* Provides a structure to channel difficult emotions
* Promotes positive self expression & creative thinking
* Aids in the development of pro-social & leadership skills in the girls who participate
* Promotes multi-cultural identity empowerment
At the same time, our program nurtures the motivation in each girl to want to improve herself in order to give strength to the community. Our all-female staff of artists mentor each girl's positive development through the program via their art form and their personal connection with each girl. Using the creative and performing arts, the curriculum aims to empower and inspire teen girls to become and to creatively promote the change they wish to see in the world.
Why This Program Is Needed
By investing in the dreams of young girls from high risk, low income inner city neighborhoods, and by encouraging and supporting their visions for the future, we are uplifting the quality of life for all.
Current research reveals:

* that violence amongst girls in high risk, low income urban environments is rising to levels higher than at any time in history;
* that communities across the globe fail when the female social networks within their communities fail;
* that when adjudicated girls turn their lives around the boys follow;
* that vulnerable communities are strengthened when the adolescent and adult female networks within these communities are strengthened.
So it follows that female adolescent empowerment and leadership development in vulnerable inner city communities is crucial to repairing the damages in the social system as a whole at this time.
How We Make A Difference
There has been an overwhelmingly positive response to the program from the teens enrolled as well as their instructors/mentors, parents, and community members. Clinical director and instructors' observations, and participating girls' self reports show that while involved in the program, all participants:
* Increased their non-violent problem-solving abilities;
* Showed improvements in their ability to develop and sustain positive and supportive peer relationships;
* Used the creative arts to increase their self esteem, cope with difficult emotions, motivate themselves, and tolerate frustration;
* Gained increased patience with themselves, the staff, and each other during the rehearsal and performance planning process; and
* Gained an improved motivation to succeed in their chosen field of interest-many even to the point of engaging in outside activity for support and learning-while significantly developing and improving their creative, artistic, and presentation skills as performers and developing youth leaders.
Phases of the Program
Girls on the Move lasts one year and is held after school and on weekends. Throughout the program, girls are challenged to grow and create using dance, poetry, art, and theater, four art forms engaging four different sectors of the brain and involving a diverse and complimentary set of developmentally appropriate psychomotor and analytical skills. In addition to the programming, each girl is assigned a scholastic & career mentor throughout the duration of the program and beyond. The program has three phases: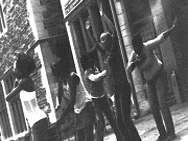 Phase I: Creativity
The beginning of the program introduces the participants to the professional female artists, who act as guardians of feminine identity and take the girls through a journey of dance and drama performance creation. This stage begins to promote the healing and repair of the girls' personal and cultural identity. These artists are a multi-cultural mix of African American, Latina, and Caucasian women who have similar and divergent backgrounds to the girls. This enables the artists to effectively reach their students, teaching them art forms that arise from the girls' cultures-helping them to see the value in their cultural identities while receiving the support of reparative multi-cultural feminine community. The art forms of dance, theater, poetry, and fashion are introduced in phase I, integrated with conflict resolution techniques and sexual health information, as the girls begin their journey of self discovery, learning to interact with others, express themselves, and seek out their identities.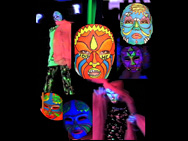 Phase II: Transformation & Power
Building on Phase I's explorations, this phase involves creating a choreographed performance with masks and black light. The girls create their own mask, which becomes a symbolic form of self-exploration, allowing them to express their inner emotions and access their inner strength through both dance and costume. Performing in front of an audience, each girl portrays a super girl character in the performance, allowing them to embody, live, and speak from a place of power and purpose.
Phase III: Action
A new art form is explored in this phase-the use of photojournalism and documentary creation. The girls are given the necessary equipment to create a documentary expressing their hopes for the future of their community, and immersed in an intensive leadership training to help them develop the skills to turn their visions for change into action through film. Through making this documentary, they develop editing and story crafting skills, find positive new ways to deal with negative issues, and express powerful emotions of hope for the future of their community and their lives. Through video documentation, the girls learn how to become advocates for change, even amidst difficult odds.
Testimonials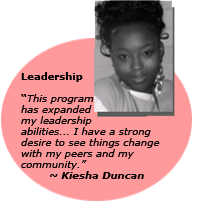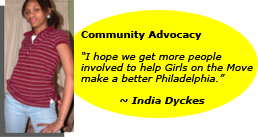 Since 2005, over 80 girls have participated in and 45 successfully graduated from 9 modules of the 12-week series. Each year, the girls truly learn to become change agents; they learn to take charge of their lives, overcome odds, and act as an inspiration to others in their community.
In addition, throughout the program, the strengths of each girl emerge and shine through. As a group, they learn to appreciate each others' individual strengths, and use them to work harmoniously together. For example, one participant may find her voice through poetry, one may reach out to others through her innate kindness, one brings humor to every situation, and so on. Above all, each girl learns to find strength in her individual style of leadership, and uses it to improve herself and her community.
"I see myself now as a young woman. Before graduating this program, I was like a little kid, immature, I did not really care about too much of anything. Phase III helped me to be more dedicated to myself. I am not saying that I never was, but in a way I wasn't focused on the bigger picture and life at all. Phase III helped me to be more dedicated to myself and more driven to become more than just a high school graduate. I have a passion now to complete my dreams, become what I want to be, to complete what I start. I want to become a doctor, be healthy, get a PHD and own my own home and have a family.

"I feel good about being part of this program cause its something positive and you know giving back to people, by showing you can do something positive—by performing, by practicing, by inviting people to come and join which makes it more known and more popular and that is a good place to be."
—Shalante Townsend
"The group makes me feel safe because I am around people that I know and they cool and they wont do nothing to harm me or nothing. It was nice and it kept us out of the streets and stuff."
—Lafeesah Wallee
"I feel great and positive and I like being a part of this group. I love dancing and I am going to show a positive attitude this time and set a good example."
—Brittany Mason
"I think the program is very nice. I learned a lot. I learned how to act, dance and step. I learned to be intelligent. I think the program should be for every girl in the world."
—Ashley Carney
"I think every girl should have this experience. I think it's going to open a lot of doors in the future. I really had fun. It taught me to be patient."
—Rashana Sykes
"I have a more positive attitude toward other females; before I came into it [Girls on the Move] I really didn't get along with other girls. Now I have six female friends."
"I really got to know myself in a different way, examined different parts of me, and have really gotten deeper in knowing myself and in bringing different levels of creativity out."
"The mask brought out the most sides to everybody, cause everybody's masks were so different… It was like wow…. you really feel like this inside?... You see different personalities in our masks, and when you read the poetry you see different people… like wow I didn't even know you thought like that… It brings out a lot of stuff, the creative side."
"We basically proved that girls can actually come together, do something creative and work together."
"Girls on the Move is a place where we know we are cared for and we get the support to become what we want to be."
"A small group of teen girls can make an impact on Philadelphia."
"Girls on the Move is important to me because it keeps me occupied and out of trouble and lets me know I can be whatever I want to be. I like it because I get to learn a lot of positive things. Instead of being out in the streets being negative and doing negative things, I can make something out of my life."
"…as a result of your program my three grandchildren have shown more confidence in themselves. I only wish there was a second stage to your program. I have two more granddaughters waiting their turn to go to your program. My daughter was so impressed at the closing performance that she wants to know if there is a program like this for boys."
—Mrs. Thomasine Fox, Grandmother
"My teenage daughter needs your program to be on-going so she can keep learning how to use her creative juices positively and safely and keep building supportive relationships with other girls, so that she won't want to go out and 'find herself' in the streets."
—Crystal Camp, Mom
"I feel it was a very educational program. My Daughter learned how she can face different situations. The program itself was just excellent."
—Mrs. Bey, Mom
"This program is so unique in its concept and in its execution. The use of the arts as a way to access the girls' untapped creativity is so crucial for inner city girls who may not be reached by the more mainstream approaches. The performance of Phase II Visionary Mask Creation that I attended on April 29th moved me to tears. The sheer brilliance of dance and poetry and song in black light totally transformed the appearance of each girl's mask and costume. It also evoked a dreamlike ambiance to the audience. Each girl created her own individual persona such as Leader, Healer, Mother, Conscience, and Peacemaker.
"The spirit was infectious and the honesty of each participant's truth was abundantly clear. I was in awe of such a transformation taking place over such a short period of time but that speaks to the dedication of each artist/mentor and to the commitment of the girls. Girls on the Move is an innovative, highly effective program that needs to be supported and expanded so that more girls can benefit. "
—Linda Ruthen LSW
"It's the best thing that could have happened. Not only did she [my daughter] have a chance to be herself, but to access the tools to use and express herself. There was a big turn around in her life. Her behavior has improved tremendously, and that was a primary concern because she was headed for trouble, disaster and destruction."
"I was so enthused. I left your performance saying "Girl Power!"
—Zakia Bey, Coordinator
Philadelphia Youth Advocate Program
"The representation of artists coming one after the other keeps the girls really focused. I have never seen anything like this—nor any group of girls take to a bunch of tasks so quickly and positively. I see the difference in them being here in this big and positive space with these artists—from having no positive role models around them in their daily lives that they can really respond to. This program brings a positive energy and shows them that they have the opportunity to go far and beyond what they see everyday."
—Storm Ramsey
Philadelphia Youth Advocate Program
"As my client, M has been very introverted and quiet. I noticed that after week three, I was pleasantly surprised and shocked to see and hear her open up and share some of her thoughts and poetry with the group. I thought 'this is good!"
—Diane Townes
Family Based Services
The Consortium